You can order the Tap Strap online at https://www.tapwithus.com/
Select the Size you Want for Your Tap Strap.
If you are unsure what size to order, check out our size guide here: https://www.tapwithus.com/tap-size-guide/. If you are between sizes, we recommend sizing up.
Add the Tap Strap to Your Cart
Once you have selected your size, add the product to your cart. You can adjust the number of Tap Straps that you would like to order using the numerical increase pad on the product page.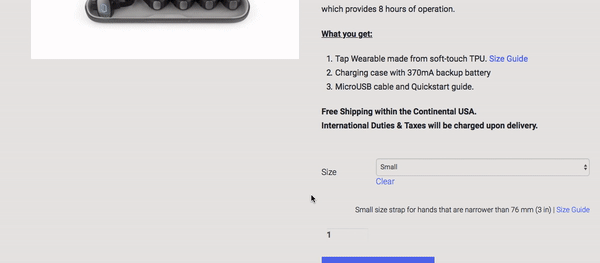 Once you add the Tap Strap to your cart, you will be automatically redirected to the checkout page. If you want to keep shopping or browsing, you can simple use the top navigation to continue moving through the site - your cart items will remain saved. When you are ready to check out, you can click on the shopping cart icon or go to https://www.tapwithus.com/cart/.
Place Your Order
Once you are in your cart, you can finalize your order. You can increase the amount of Tap Straps you would like to order, change your size, or apply a promotional coupon! You cart total will update dynamically. In your cart, you can also estimate your shipping costs by entering your location.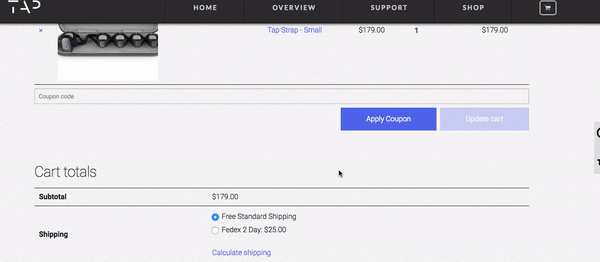 After you have finalized your order, you can proceed to the checkout, where you will be redirected to the Checkout details page to enter your billing and shipping information. Be sure to check the subscribe to our newsletter box for product updates and other news.
If you would like to send the Tap Strap to a location that is different from your billing address, check the "Ship to a different address" box below your billing details.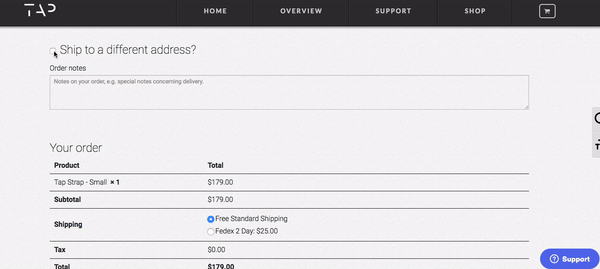 Once you have entered your shipping details, your order total will update based on your shipping location and local tax laws. Please note, your Tap Strap order does not cover any International Tax & Duties fees.
Enter Your Payment Details
Now that your billing and shipping information has been entered, you are just 2 steps away from ordering your Tap! We offer payment through Stripe, PayPal and all major credit cards. Once you have entered your payment details and confirmed our Terms & Conditions, place your order!

If checking out via Paypal, follow their guided login instructions. Once you have ordered through their portal, you will be redirected to the order confirmation page.
You will be redirected to an order confirmation page with your order number and additional information. You will also be sent an email from orders@tapwithus.com with your order confirmation and receipt. Please retain this email for your records.
Once your product ships, you will also be sent a shipping notification email with your tracking information. Congratulations, you will soon be a proud owner of the Tap Strap. You will be tapping away soon!