After your Tap order has been processed, you will be sent a notification email from [email protected]. This email will contain your tracking number. If you do not receive an email confirming your order, please contact [email protected].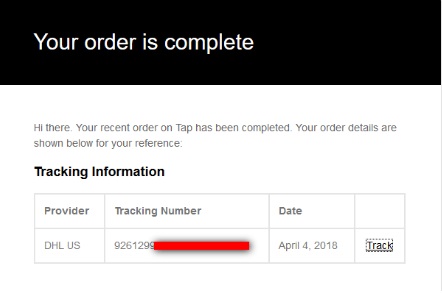 International Expedited Shipping is handled through DHL Express.
Within the USA we offer expedited 2-day shipping via FedEx.
Standard shipping is handled through DHL Global Mail.
Within your shipping notification email you will see which provider was used to deliver your Tap.
To track your order - please use the following website:
You can also track your package by clicking on the "Track" link contained within your confirmation email.
Please allow up to 24 hours from the time your order confirmation was sent to you for your tracking information to begin populating.
If your tracking information states that the order was sent back to us it may mean that your shipping address is incorrect or mail cannot be delivered to the address supplied.
If you notice an error on your shipping address please contact us ASAP to update your address and ensure a timely delivery.