Please note that TapMapper is in Beta. We are aware of the login issues that are affecting some users. If you are having problems logging in to TapMapper, please email [email protected]
TapMapper is an online mapping tool used to customize the inputs of your Tap device. It's a simple way to change the default Taps to meet your specific needs for gaming, editing, coding and more.
To get started, navigate to map.tapwithus.com on your computer and SIGN IN using the SIGN IN button on the top right. Note that TapMapper is not currently optimized for mobile.
If you are already signed in, press the CREATE button on the top left to start building your map.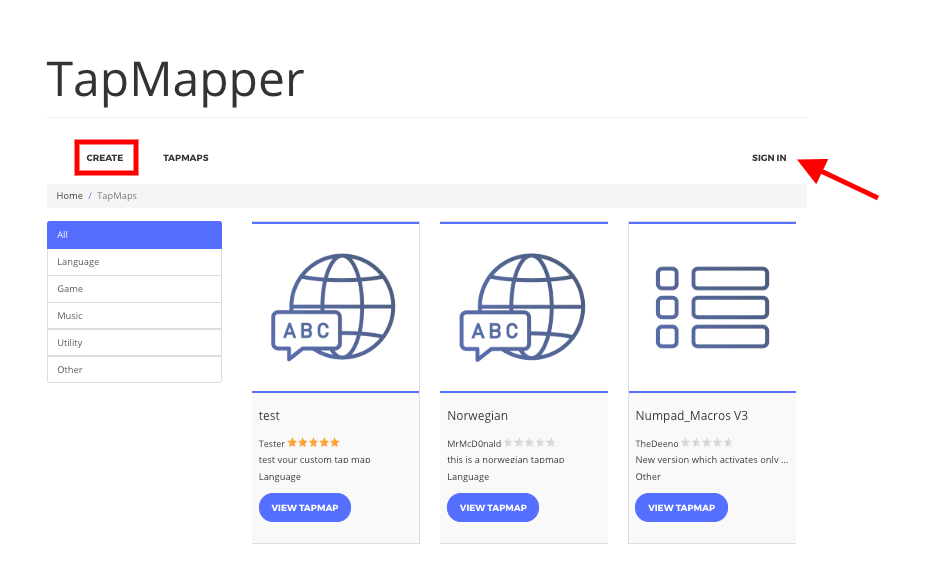 Signing In to TapMapper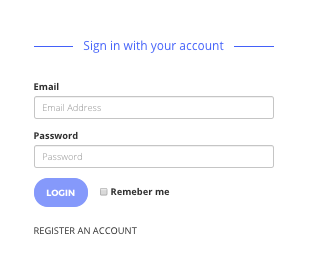 You can sign in using your Gmail account (recommended) or register for an account using the REGISTER AN ACCOUNT link. Once you have completed setting up your account you will be able to login.
Creating A Map
After you have logged in and hit the CREATE button, you will land on a page that contains several rows of editable inputs. First you will want to name your TapMap so you can easily find it later. In the screenshot below, we have named our TapMap "My TapMap". You can also include a description to let other Tappers know what this map is for in case they would like to download it.
Each row corresponds to a Tap input. For example, row 1 is 1 filled in circle followed by 4 open circles. This can be written as xoooo. The filled in circle represents the finger being tapped, so row 1 represents tapping just your thumb. 
Next to the input you would like to edit there is a column labeled Character. Enter the character you would like to correspond to the specific tap using only your keyboard. A copy/paste will not work. Once you have entered your custom key, you can add a brief description such as what the keybind does. The column labeled HID Code will automatically populate. You can see an example of the letters a and b being added to the taps xoooo and oxooo in RED in the example below: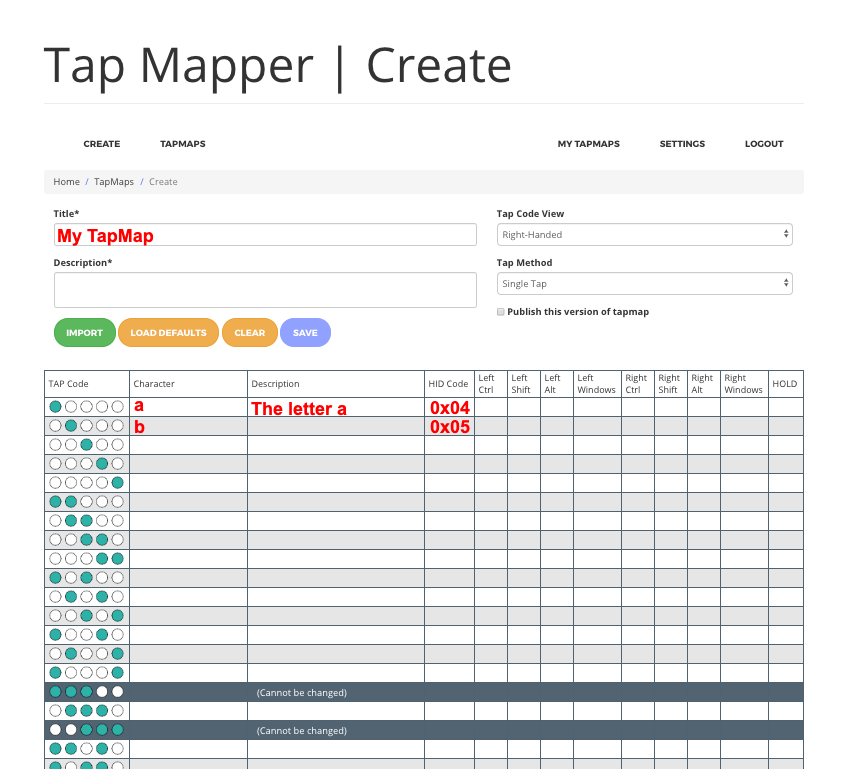 Modifier Keys (Ctrl, Shift, Command)
You can also create modifiers strings using the TapMapper for commands like copy (ctrl+c) and paste (ctrl+v). These can be very helpful when using software they relies on a lot of keybinds or in video games that require hotkeys.
To add a modifier to the letter you have inputed, click the column for the modifier you want to add. In this example we are adding the modifier Control to the characters C and V for the inputs ooxoo and oooxo: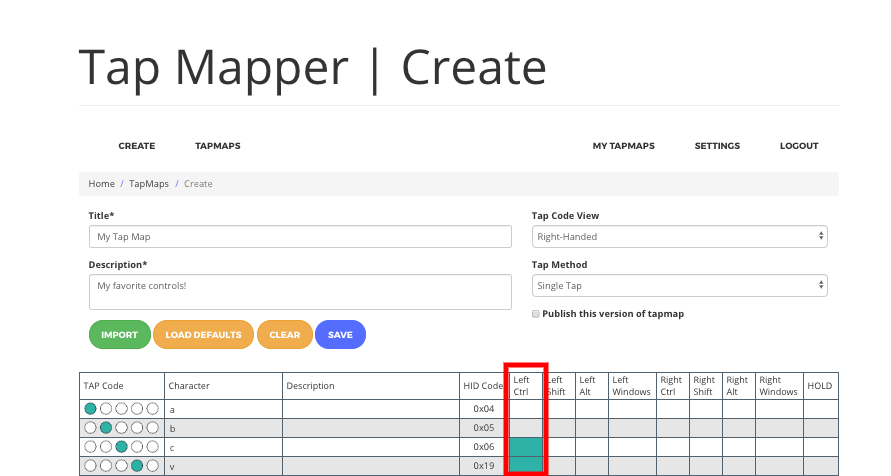 You can also create HOLD events that will press and hold a key down with one Tap and then release the key when you tap again. This is helpful for things like WASD movement. Note that a HOLD event and a modifier alone will not work.
Saving and Publishing your TapMap
Once you are finished with your TapMap, publish it by checking the box labeled "Publish this version of tapmap" and selecting the category. Press publish to share it to tappers everywhere!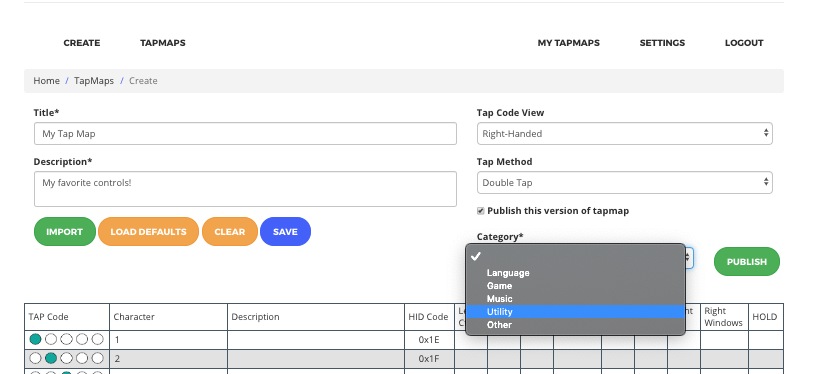 If you would prefer to keep your map private or just for testing you can hit the blue SAVE button instead which will save it under MY TAPMAPS. You can download your maps as txt files at any time from the MY TAPMAPS tab.
Uploading Your TapMap to your Tap Device
To change and activate your TapMap, select the Maps tab in the TapManager application: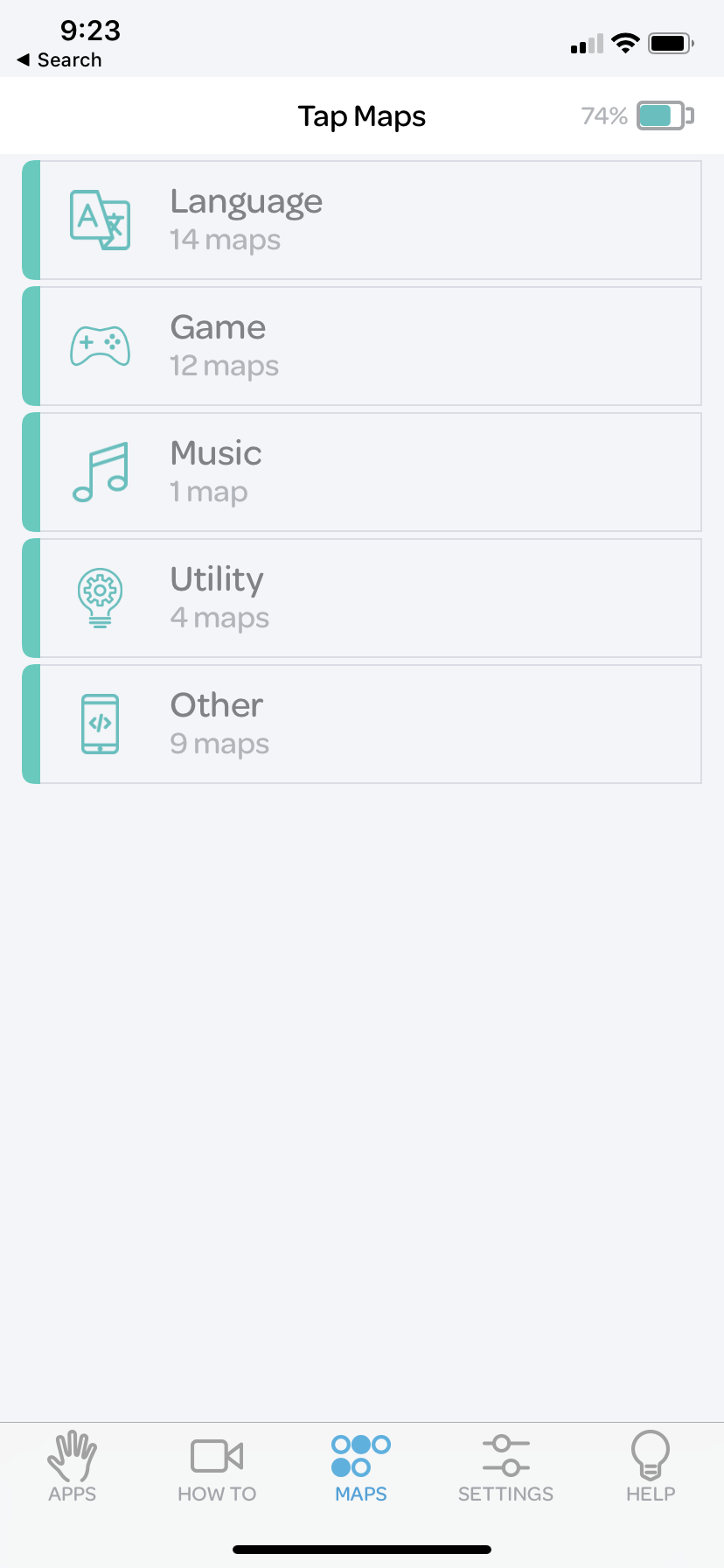 Select which category your map is under or which category of map you would like to explore. You can also view the glossary of the maps in PDF by clicking the teal GLOSSARY button. Once you have found the map you want to export, simply hit the blue GET button to install it: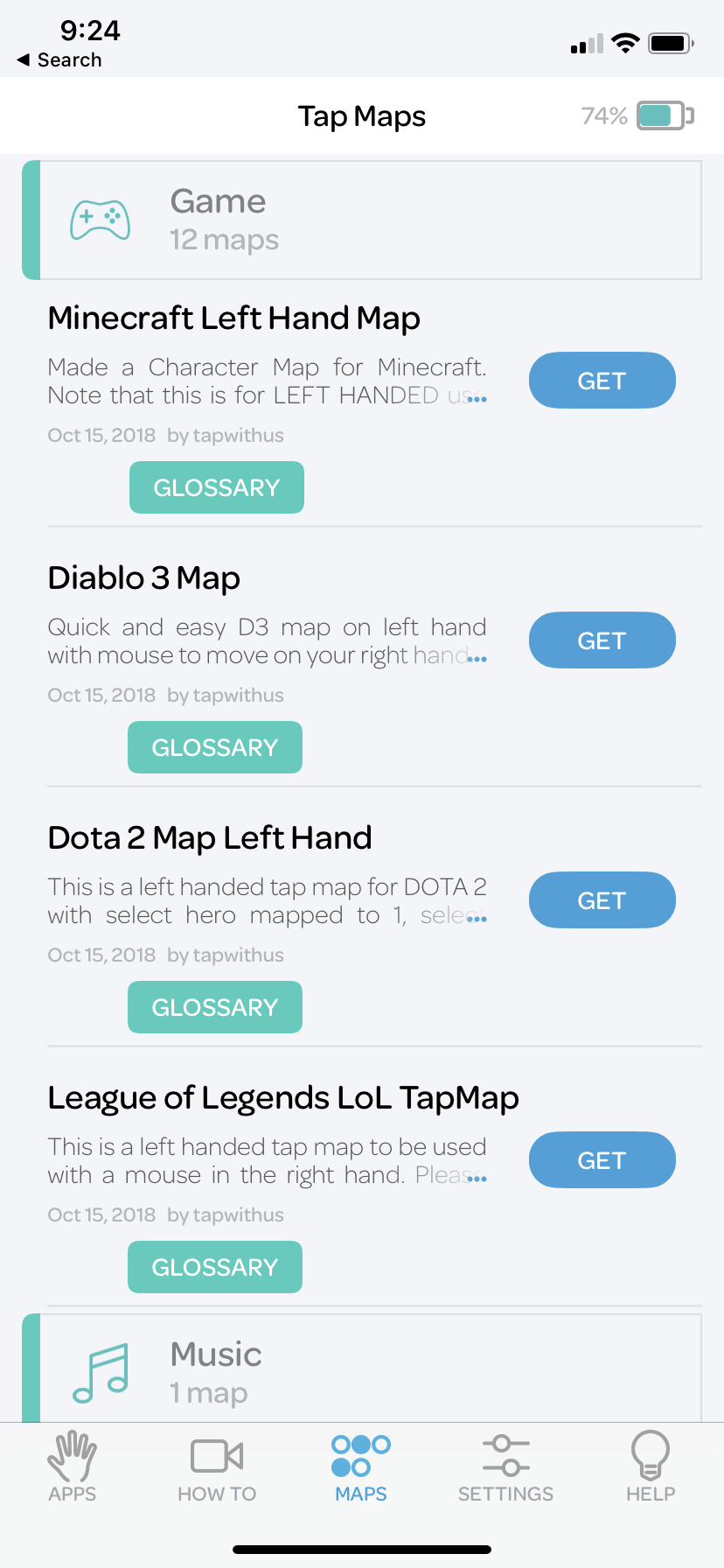 This installs the map onto your Tap. Your Tap will retain this map even if you disconnect from your phone and pair your Tap to another device. To swap between maps hit SWITCH (ooxxx) then the letter C (xoxxx). You will feel a short vibration when switching.